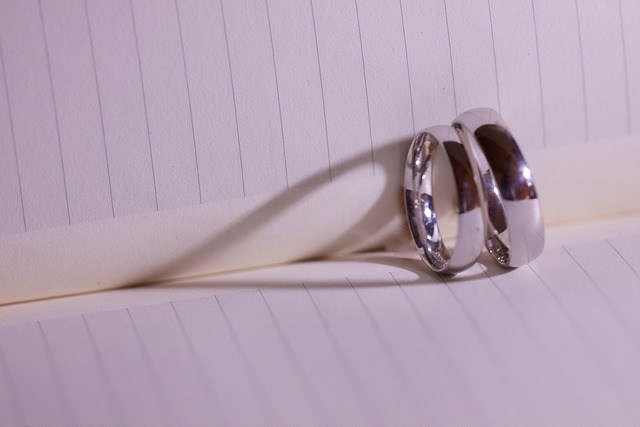 Weddings & Civil Ceremonies
---
The most special day of your shared lives together will be unique and personalised to include all the elements you wished for and maybe some extras you hadn't considered.
It can take place at the venue of your choice and is not restricted by licensing, so if you wish for the beach/park/mountain/castle/cave/your home/garden/on water, all you need is the owner's permission.
You choose the time of day and are fully involved with the development of the ceremony, to reflect your personalities and your love for each other. You may wish to have some elements incorporated from your background and culture, religious or secular beliefs, pagan rites or historical Handfastings.
Your ceremony can be as romantic as you wish and include a sharing or unity candle, petal scattering or the release of doves. Your vows can follow traditional lines or be written by you to reflect your love and commitment to each other in the years of your lives ahead. The music, readings and poetry you choose can be from any genre, but give personal meaning to you as a couple.
Prior to your special day you will have completed the legal requirements for a Wedding or Civil Partnership at your Registrar's Office. This is a relatively quick and inexpensive process and you will require just two witnesses. Once this process is completed legally, you are free to host your ceremony in a wide range of venues, not limited to licensing requirements or permanent structures.
---
Celtic Handfasting
---
Traditionally carried out in Celtic cultures as a betrothal ceremony, up to a year ahead of a formal wedding, Handfasting has been re-introduced into modern society to fit the ethos of a committal to a relationship between two people.
The term Tying the Knot derives from this custom as the couple have their wrists secured with a cord or ribbon and are knotted together or make a binding contract! The celebration of Handfasting brings to the forefront the realities of a shared love and life. In the honeymoon phase you may not notice little differences between you, but realising that these quirks are part of the person you love and vowing to accept them, allows you to develop an acceptance together.
A Handfasting ceremony can include Neo-Pagan elements of wind, fire, earth and water and be personalised for the couple as a stand-alone celebration. However, you can also incorporate this aspect into a wedding or civil partnership ceremony to celebrate your union.
---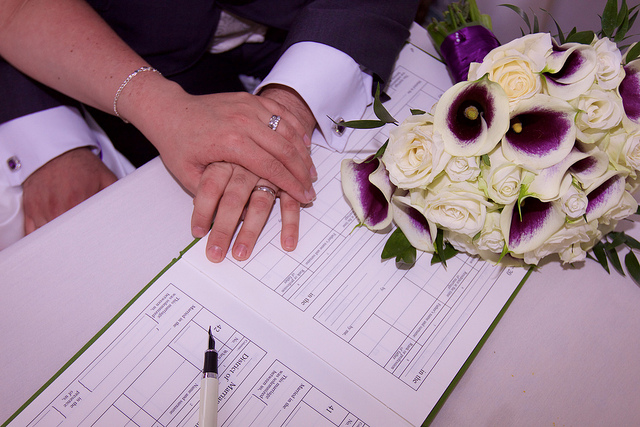 Vow Renewals
---
The perfect way to recommit to your partner, at a time in your lives you feel is suitable. Couples choose to reaffirm their love for various reasons and these ceremonies can be (but are not exclusively) a renewed beginning after a period of difficulty.
You may decide that a milestone anniversary is the ideal time to gather together your family and friends, to celebrate the years you've shared, a time to reflect on the changes in your lives during that period, and to share your hopes for your continued futures.
There are no limitations on time of day or venue when planning your celebration. You can re-use the format from your original ceremony in part or compile an entirely new celebration, with as much assistance as you wish. Together we will make your ceremony a memorable time for all with whom you share it.
---
Naming Ceremonies
---
Naming ceremonies are a wonderful way to welcome a new member of the family and can be held for babies, adopted children or indeed following name change/gender reassignment.
A naming ceremony is perfect for families for whom traditional religion is not a solution. You can include family and friends in your celebration and nominate responsible adults to pledge their support to encourage the new life ahead. You can share your love and hopes for the future, create a treasure box to fill with memories, symbolise the new life by planting a tree.
A new person in the family is a reason for celebration and the ceremony we construct together will make it a memorable occasion for everyone.
---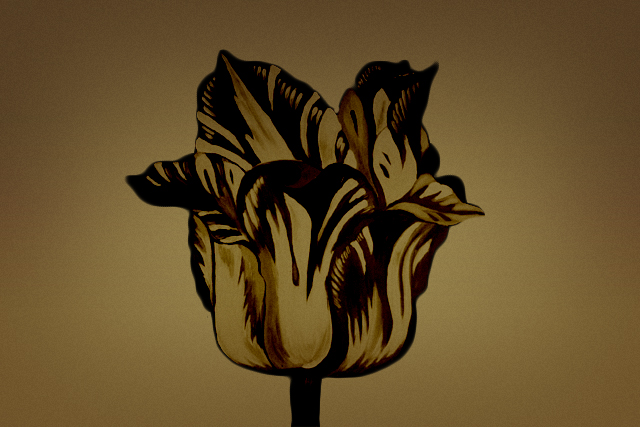 Funerals
---
Traditionally the Funeral Service was a sombre occasion, but the life that was lived should be celebrated and opportunity given to not only acknowledge the grief felt by those close to the deceased, but also to generate new memories to share with all those present who loved them too.
Cathy will deliver a personal and unique Funeral Service for your loved one, reflecting their importance in your life and those close to them. The service may include non-religious, part-religious or spiritual elements, ultimately decided by the family.
Making contact with your Funeral Director to coordinate the details and requirements of the venue, meeting with you and other family members to develop a service which will reflect and celebrate the life of the person at the centre of it.
Taking as much time as is needed, you will be helped with developing the service to include music, poetry, readings, hymns or prayers if that follows the wishes of the deceased and their family. You will be encouraged to share special memories or interesting stories when we meet and these will be included in the tribute along with a history of the path they followed through life.

In addition to celebrations of life for humans, our pets are extremely important to us and saying "Goodbye" can be very traumatic when the time comes. Historically there has been no formal ceremony to celebrate their life and this makes their departure more difficult.
Along with many people, I have loved and lost many special pet friends over my lifetime. Each one holds a special place in our hearts and though they are no longer physically present, they are not forgotten.

The memories that we hold close from the time they were in our lives can never be taken away, and the individual character of each one is fondly remembered.

A pet funeral provides you with a ceremony that reflects the love and importance of this relationship over the lifetime they shared with you. At our meeting Cathy will listen and make copious notes to capture the essence of your pet's personality and the life they enjoyed with you. Lasting a minimum of one hour, questions will be posed to encourage you to recall all those wonderful moments you had together.

Emotions can be difficult to express at sad times and you will be assisted as much as you feel necessary to deliver a sensitive and honest tribute to celebrate the life no longer with us. If you find that you or another participant is unable to take part on the day, I will deliver your words for you, but will not take over unnecessarily.